How to choose your worktop wisely?
One always chooses a mineral surface for the very singular emotions that come with it, and for its unique softness to the touch as well. If you ask us, beyond all the technical questions, this is what the choice has to come down to in the end: "Which mineral do I like most?"
Naturally, things such as scratch resistance or non-porosity are of some importance. But keep in mind that mineral worktops are a technical choice by themselves. No matter which one you choose, it will last a lifetime provided you take good care of it.
You will see your worktop every day for the rest of your life: we encourage you to select the one your senses respond to!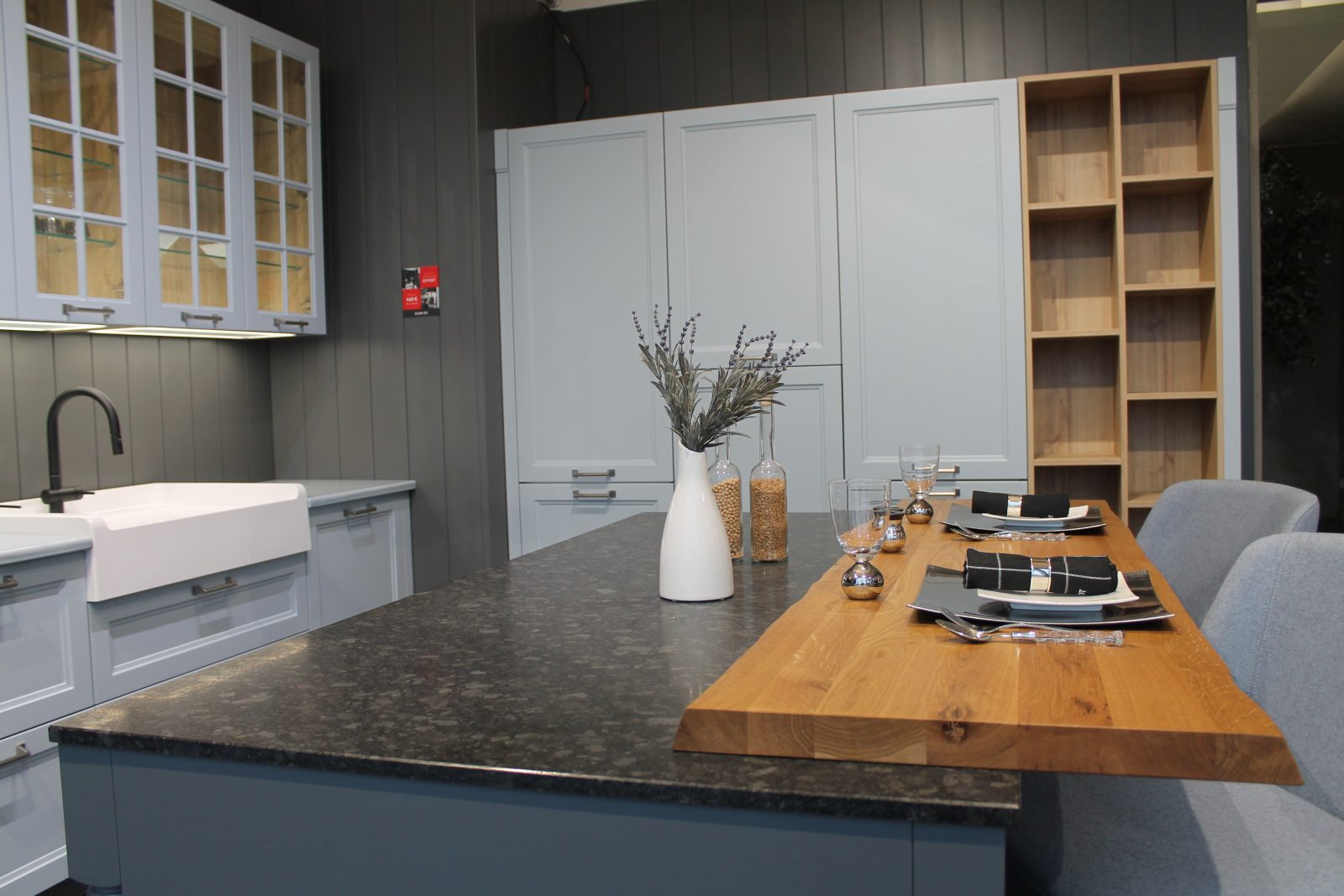 Looks
Think first about the aesthetics that speak most dearly to you. Are you more moved by a material that looks like it's been directly sculpted in the rock, such as natural stone? Or a different minerality such as that of ceramic or quartz, with decors truer than nature such as industrial aspects or raw minerals?
Feel
While all our products are available with a smooth finish, only some offer the possibility of a textured effect, with a more direct mineral approach, essentially our natural stone collections, Naturaplan. If you aim at a smooth finish, various sensations exist: more or less velvety, more or less slick.
Colours
If you have been dreaming of sober mineral colours for years, natural stone is your stone. Ceramic and quartz also offer many possibilities, in "natural" hues as well. At the other end of the spectrum, you'll find enamelled lava with its infinite colour possibilities (yellow, blue, red…).
Matte or glossy?
All the worktops are compatible with a matte or satin finish, sometimes a glossy one too. A detail of some importance when you want to coordinate it with the rest of the kitchen or the bathroom.
Thickness
Are you looking for a slim or rather thick slab? Depending on the material, Pierredeplan can offer slim slabs or more massive ones, thanks to our "retombé collé" process, amongst others. You can find all the possibilities for a given material on its product page.
To go further, take a look at what specificities the different collections can offer:
The possibility to integrate the sink in different ways:
Affleurant: 
For an ultra slim look & feel
Undermount: 
Avery aesthetic approach of the kind you'll find in design magazines at the moment. Quartz sinks are also a must if you are on the lookout for harmony.
Par dessus: 
Maximized comfort and ease of use..
Stone is extremely resistant by nature. It is a smart choice for a kitchen as it is made to last. That being said and within this spectrum of high resistance, each material has its own properties and needs. It is good to know them so you can direct your choice upon your habits as well if need be.
Unlike what rumours say, mineral worktops are not a privilege for unlimited or high budgets only. The reason they tend to appear unaffordable to many is that people usually concentrate on furniture in a kitchen for strong expenses, leaving no chance for a quality worktop.
We recommend that you question this reflex if you fear a mineral surface is off budget: by balancing priorities, you will be able to afford a beautiful mineral kitchen without changing your initial budget, with a much higher visual and emotional impact. Truth is, what you will see most in your kitchen is the surfaces!
Sky's the limit
Pyrolave, our enamelled lava, is an haute-couture product, both rare and precious. It is the perfect addition to an exceptional palace (more than a royal family has indeed chosen it), the kitchen of a prestigious hotel and all incredible places…
Feel good budget
Ceramic, natural stone or quartz offer three different types of minerality. While ceramic (Plancéram) is both silky and incredibly design, natural stone is all about frankness and charisma (Naturaplan) and quartz is a go-to for finesse and elegance (Idquartz).
Small budget
Preconceived ideas are legion when it comes to kitchens and worktops! Unlike what many think, mineral is not necessarily more expensive than laminate, while its performance is just incomparable.
We have conceived Easyquartz worktops with a simplified option system to ease access to mineral surfaces and the beauty of quartz.
We have also shaken the standards and the status quo by creating Kompaklan, an incredible imitation of stone and natural materials (zinc, etc.) made of high-pressure kraft paper. This innovation offers much higher resistance than that of laminate for a similar cost and unparalleled beauty.