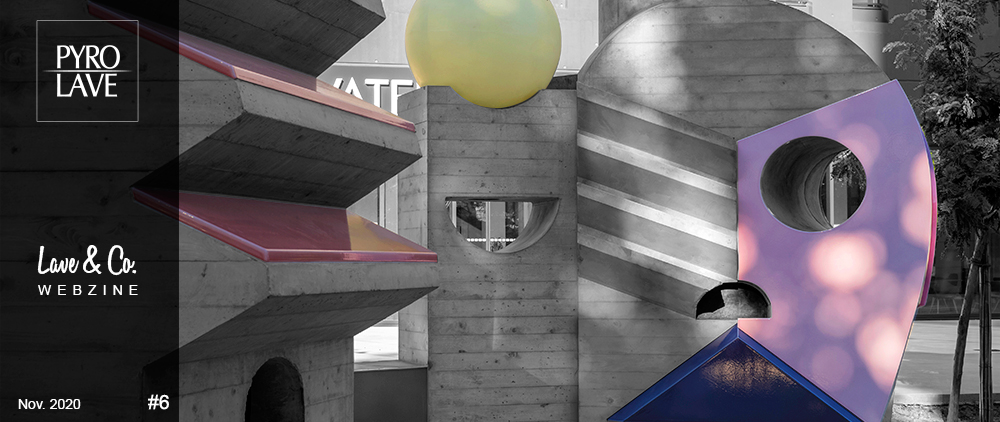 Dear Designer, Dear Architect, Dear Reader,
An exceptional situation calls for an exceptional issue... To transport and inspire you and to inform you that we remain open and that you can count on us.
Contemporary art, iconic furniture and other displays... Volvic enamelled lava stone - as you have never before seen it - is now showing in this explosive autumn edition!
The Brutalists…
Mischievousness and colours for these strange lava stone and concrete figures

Nantes city in France. A green line drawn on the ground. A trail of 12km across the city marking the way to monuments, art works, remarkable features and other little-known treasures of its heritage. This is the cultural attraction devised and developed by Le Voyage à Nantes, responsible for promoting the city.
In 2020 and for the 9th edition, the company is continuing to enrich its permanent collections. It is in the heart of the new Polaris neighbourhood – on the site of former industrial warehouses, in the east of the Brossette district – recognisable by its high-rise blocks and its huge public spaces whose rehabilitation was entrusted to the LAN agency, that the Brutalists' sculpture is on display.
To play with the verticality of the site, Martine Feipel and Jean Bechameil created a geometrical and coloured composition, appearing like a bulky picture on place Clémence Lefeuvre, in front of the Vatel hotel business school. Motivated by the desire to combine the duality of raw concrete - for its "untamed, natural and primitive" look as described by Le Corbusier – with a precious material - enamelled lava stone – the artists have created these mischievous and coloured giants, that they have called The Brutalists, in reference to the eponymous architectural movement of the 1950-70s.
Unknown by the duo of artists for this kind of use, "Pyrolave enamelled lava stone is a revelation", Martine Feipel revealed. "Originally, we had envisaged using ceramic for the project, but the properties of lava stone and the vibrations of the enamels immediately won us over. Colour is the main element of our work. Using this material, the final sculpture is exactly as we imagined it: a living picture like a painting, which fits seamlessly into the public space, and which could become a permanent feature. "
For this complex and daring project, Pyrolave craftsmen had to combine extra-large slabs of lava stone with precision-cutting of different angles, control of the enamel and anticipation of dilation phenomena during the firing process so that each piece would fit the concrete structure to perfection. In the initial phase, the master enamellers worked on Pantone references to offer new kinds of colour to obtain the pastel, bright and dark hues sought by the artists.
More than simply contemporary works to contemplate during cultural tours, these stone figures have been designed as a vector of social ties within an inclusive architecture. The sculptures are equipped with ovens to bring the neighbourhood's residents together to experience wood fire cooking.

Similitudes
by Pierre Charpin
Are you a fan of iconic furniture? Here are Translation coffee tables and Fraction side tables imagined and designed by Pierre Charpin and displayed at Galerie Kreo in Paris. Lava stone in lava stone... outstanding.
"Each coffee table is the outcome of precise combinatory operations. Inside a basic shape-frame (a square, a rectangle), an identical shape is repeated but with a significant difference: the second time, the table edge comprises one of the sides. Each shape has its own colour, thereby activating the "difference and repetition" composition principle. Finally, combining enamelled lava stone with metal gives rise to a variety of textures and intensities which creates a contrasted marquetry where the fine cracking of the enamel gives the top a vibrant look, a "skin with moving reflections".
Pierre Charpin – www.pierrecharpin.com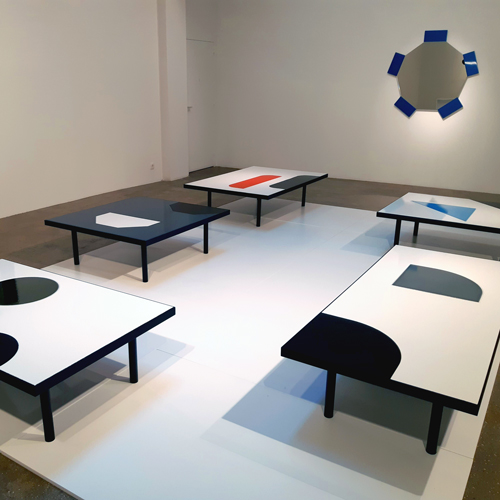 To discover on the artist's website or at Galerie Kreo
Fifty shades of enamelled lava stone
at Architect@Work Paris 2020

Because lava is much more than a kind of stone, we adorned it with a myriad of reflections and facets in our dedicated corner at the architectural fair in Paris.
Out goes the cliché of enamelled lava stone reserved for the kitchen countertop of our 'trendy' great aunty Claudine! In comes new kinds of mural decoration, for both in and outdoors, as well as imaginative vanity tops for bathrooms and hotels as well as reworked psychedelic display plinths dedicated to retail and interior decoration.
To furnish a private or corporate entrance lobby. To play with the light or the path of the sun. To offer new perspectives to architects and designers and give a new look to front walls, Pyrolave has developed 2 concepts around iridescent colours:
A wall of white and green brick-shaped tiles with a subtle gloss white effect or more pronounced for the matt green elements;

A tie & dye-like puzzle blending hues of pale yellow and green, allowing iridescent parts on matt and gloss substrates to show through.
As for interiors, the classics are back, but reworked. We have extracted thick blocks of unpolished lava stone from our Volvic quarries. One has been cut from all angles to obtain a solid origami-like vanity top, designed for residential or hotel bathrooms. The other has been split into several sections that have then been stacked and Peacock Blue (Bleu paon) enamelled to offer the retail market monolithic display plinths.
Shapes, colours and uses which aroused your curiosity and led to us making some great contacts and having valuable discussions over those 2 days. A big thank you to you for coming to see us and we look forward to studying your projects!
EPV Certification
The reward for beautiful things
Pyrolave has just been certified as an Entreprise du Patrimoine Vivant or living heritage company, which makes us very proud!
Proud of our teams and our People, at Castelsarrasin and at Volvic, who work hard every day to make the link between ancestral know-how and innovation to bring confidential or more daring projects to fruition, for interior decoration, architecture and sometimes even art.
This certification, awarded by the State, identifies a unique network of French companies which are able to meld innovation and tradition, know-how and creation, work and passion, heritage and the future, the local and the international.
Being EPV certified means membership of a national certification label and a privileged circle where intimist manufacturers work alongside famous names like Hermes, Baccarat, etc, in which recognised professionals strive to have their work and their exceptional ability respected and who have a single watchword: the promotion of Made in France know-how.